University of Vermont Cancer Center Member Profile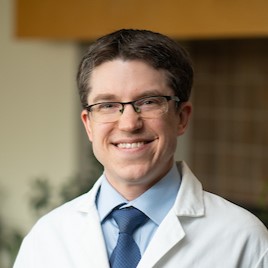 Christopher Anker, MD
Program Co-Leader, Cancer Host and Environment, UVM Cancer Center

Professor
Full Member
Academic Interests
Dr. Anker's research addresses how to improve patient quality of life through decreasing treatment intensity and/or duration while maintaining the same survival and cancer control outcomes. To accomplish this, he leads large multi-disciplinary teams of key gastrointestinal, lung, skin, and brain cancer providers to best answer important clinical questions.

Gastrointestinal Cancer/Rectal Cancer: Dr. Anker has widely contributed to published national guidelines in the treatment of most gastrointestinal diseases. One area of particular focus has been research efforts addressing how to employ radiation and chemotherapy to help rectal cancer patients avoid a potentially morbid surgery (non-operative management). The University of Vermont Cancer Center (UVMCC) has partnered with other institutions to explore more efficient/effective ways to deliver this paradigm-changing treatment.

Dr. Anker led the initiative to bring a multi-institution clinical trial to the UVM Cancer Center that provides the opportunity to decrease the number of radiation treatments from 30 given each weekday down to just 5 in total.

Lung Cancer: While lung cancer can be an aggressive disease, many elderly patients are diagnosed when being evaluated for other problems and their lung cancer grows slowly or not at all. Funded by multiple-grant sources, Dr. Anker's published data from patients treated at UVM as well as from national patient database analyses indicate active surveillance, meaning treatment only if the tumor is showing signs of concerning progression, is helping patients avoid or delay unnecessary toxicity from radiation treatment. Partner institutions (MD Anderson Cancer Center and Stanford University) are helping to analyze patient specific factors taken from their blood (liquid biopsies) that may further personalize the approach for patients. Patient-reported quality-of-life metrics are essential to this trial and a common theme throughout Dr. Anker's scholarly endeavors.

Brain metastases: Dr. Anker's research in brain metastases combines his interest in de-intensifying cancer treatment with how and when to combine radiation with new cancer-fighting drugs. Radiation has long been considered the standard of care for tumors that have spread to the brain. However, their research has indicated that patients may be able to safely avoid or delay radiation to the brain with prompt administration of therapies given by medical oncologists that harness the immune system to fight cancer (immunotherapy) and/or target a mutation in the cancer to prevent its growth. Discovery by Dr. Anker and colleagues found that saving radiation only for progression on these therapies decreases the chance for radiation brain injury, and they are investigating more individualized care plans.

Skin Cancer: Another research focus of Dr. Anker's is how to integrate radiation therapy into patients' treatment plans for both melanoma and non-melanoma skin cancers. To help guide others, he composed the original melanoma National Comprehensive Cancer Network (NCCN) radiation guidelines section to address when it might be appropriate to consider radiation. To address a lack of knowledge regarding the safety/effectiveness of anti-cancer targeted drug and radiation combinations, Dr. Anker led a team of fellow national clinical trial network (NCTN) members to publish recommendations on how to avoid toxicity which are referenced and endorsed by the NCCN Melanoma Guidelines.